להלן תרגום של כתבה על ישראלים בברלין, שעשתה עיתונאית מפינלנד שראיינה בין היתר גם את אילן וייס.
המקור, בפינית, למי שמבין/ה מופיע פה: http://www.nytid.fi/2014/12/tel-aviv-berlin-enkelbiljett/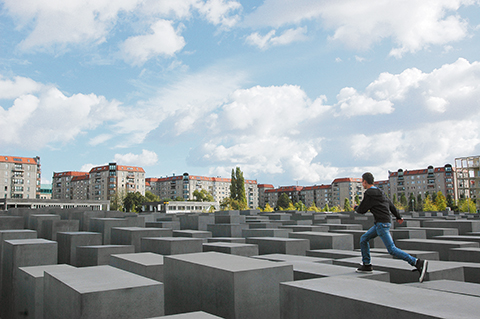 More and more Israelis leave their homeland for Berlin. The reasons may be financial, personal or political, but the basic factor is that a growing group finds that life in the war-mongering right wing government of Israel is unbearable. Cheap, multicultural Berlin attracts a growing Israeli population.
The resurrection began in October last year when a 25 year old former officer in the Israeli army posted pictures online of their purchase receipts - which included a popular chocolate pudding in Germany cost a third of what it costs in Israel - and bragged about how good life was in Berlin. The campaign was the beginning of the so-called Milky protest, after chokladpuddingens Israeli name. Over 17,000 have liked the campaign on Facebook, and hundreds of Israelis have posted photos where they are holding signs and ask Chancellor Angela Merkel for a visa to Germany.
- It is simply a reaction to the difficult economic situation: things cost 30-40 percent less in Berlin than in Tel Aviv, it is a reality, says Ilan Weiss, who runs the website israelisinberlin.de.
- In recent years, Israel has chosen rovkapitalismens way. If socialism once inspired the kibbutz, the atmosphere today brutal, and people can barely stay alive.
Weiss was one of the first Israelis who bought a one way ticket to Berlin, and since then many followed his example.
- I came here the first time to study engineering 1972. 1978, I married a German girl (in Israel, red.anm.) And we decided to move to Berlin in 1990. The wall had just fallen and the city was being become more international, and create a new identity.
Although the couple separated, Weiss chose to remain in Berlin, and the idea to create a web page came a day of necessity.
- I was inundated by phone calls and emails, and decided to simply lay out all the information online.
The website currently has around 10,000 visits a month.

Self-examination attracts
For decades got the historical shadow of the Holocaust, many Israelis to boycott Germany and German products, but today it discovers a new generation of Berlin, its cheap accommodation, sexual freedom, and the multicultural society. Mainly seen in Berlin as a peaceful, safe place, far from the armored carriages rattling.
- It is primarily a question of generations, explains the Israeli historian Ilan Pappe.
- It is easier for young Israelis to put behind them the memory of World War II and focus on their own lives. They are educated enough and resourceful enough to start a new life here.
As many Israelis have passports in other European countries or stay in Berlin for short periods, it is difficult to determine exactly how many Israelis living in Berlin, but the estimate of between 10 000 and 15 000. Most moving because of work, but as time goes on, the more it begins to personal, social and political factors influence the decision to stay.
- I moved to this beautiful city on the recommendation of my mentor Noam Sheriff, who studied here in the 50s, says 37-year-old Gil Raveh, who is a freelance orchestral conductor from Avichail.
- Berlin was the capital of classical music, he used to say. And he was right.
Since Raveh arrived in Berlin in 2006, much has happened. He has found both love and himself.
- Today I am myself and have no religion or nationality, and does not try to define myself in any way. Had I stayed in Israel, I had never gone through this amazing life and enriching process of self-examination that led me into who I am today. Israel has no prerequisites for this kind of self-exploration, because the basic mental climate of war, stress and hatred prevents you from even begin to grasp such matters. In Israel forced a just survive mentally and financially, while I am interested to grow.
38-year-old Adi Liraz has a similar history. She wanted to be an artist in Berlin, and moved to the city in 2003. Today, she has found its place. She has a German partner and two children, and begins to have a deep connection to their Jewish roots, without itself being religious. Besides the professional ties to Berlin, she has today also political.
- The situation in Israel was difficult back then I moved, and it has gotten worse with time. The occupation and racism are the questions that upsets me the most.
She believes that Israel is "a totalitarian country with several examples of discrimination against non-Jews living there, but also of Oriental Jews." Therefore, she plans to stay in Berlin, even if she misses her country, and especially his family, his old friends, language, food, sea, desert, and much more. At least, she says, needs her children away from the negative aspects of growing up in Israel.

Little political hope
On the other side of the coin is Berlin. If the city's 1900-century history is tragic, it seems its present and future promising, says Ilan Weiss.
- In Germany, there were amazing people that we are indebted to because they dealt with the country's past. In fact, no other country undergone such a process. It was conducted for us to have a future. And the more we go forward, the liberal become Germany in their attitudes towards foreigners.
Udi Berner is a 34-year-old violinist and composer on its website gives visitors a view of life in Berlin.
- It all flows easily and quietly, there are a lot of nature around town and people respect one's private and mental sphere. It does not feel like people are constantly trying to trick one and it gets a pay taxes, he says.
Berner had already been a long time longed to move from Tel Aviv to Berlin and then his personal and financial situation allowed it, he kind of thing.
- If young Israelis begin voting with their feet and simply leave the country, it means that there's anything wrong with that, says Ilan Weiss.
- Of course trying the Israeli press get the diasporas voice heard every time the topic pops up, but there seems to be no way out of the current situation. Before each election begins Israel's rich staring fixedly at the politicians, and the politicians who also makes money on the current situation, staring back. Neither of these two groups have no desire to change things.
Text & photo Alessandra Garusi
Translation Janne Wass